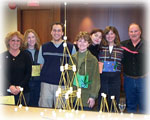 Critical Pathfinders
We provide training and team building to corporate teams. We use an experiential learning approach to deliver relevant content in an enjoyable setting.
Our clients hire us for the following reasons:
TO BUILD MANAGEMENT SKILLS As business continues to evolve, there is an ever-increasing emphasis on people working together. As a result, strengthening management skills in corporate teams is more important than ever before. We are hired to help build skills in areas such as communication, leadership, creativity, problem-solving, decision-making, conflict management and many others.
TO CAUSE BEHAVIOUR CHANGE Many companies have recently downsized, requiring more output from fewer employees. Employees now need to work smarter, not harder. In many cases, the correct skill set is in place and the opportunity to increase efficiency lies in changing the way people work together. We are hired to help people and departments collaborate, share best practices, gain alignment, think and act strategically and much more.
TO BUILD RELATIONSHIPS As people are increasingly required to work together, it becomes more important for them to know and like one another. As budgets continue to tighten, building teams is an activity that requires a business justification. Team building has evolved from just a "fun day out of the office" to a structured program designed to cause organizational improvements and build relationships in an enjoyable setting.
Please click on services to learn how we can help cause change in your organization.